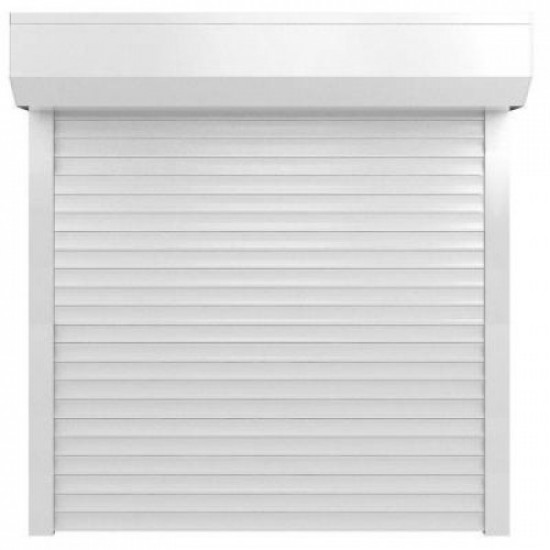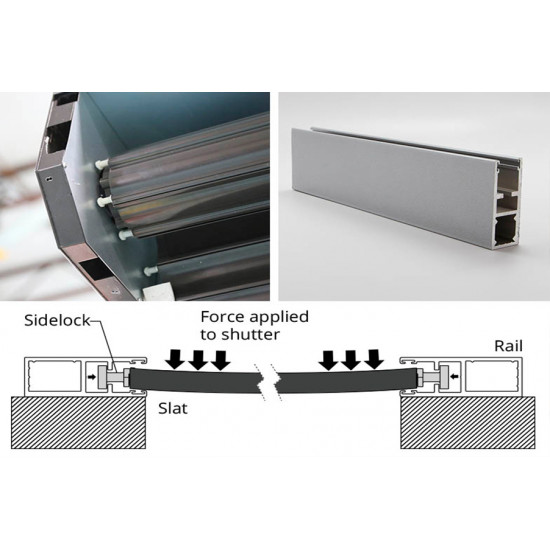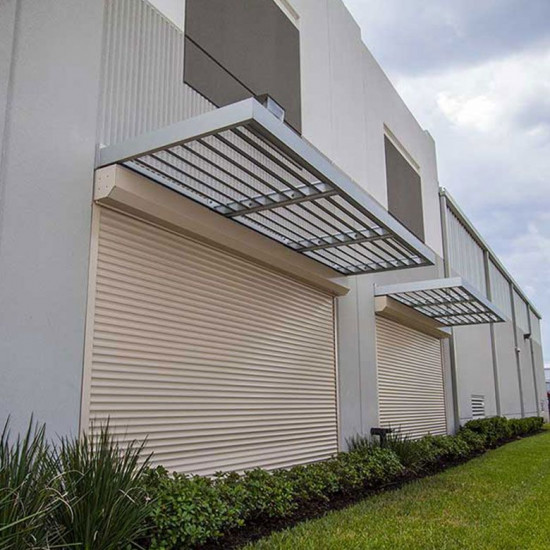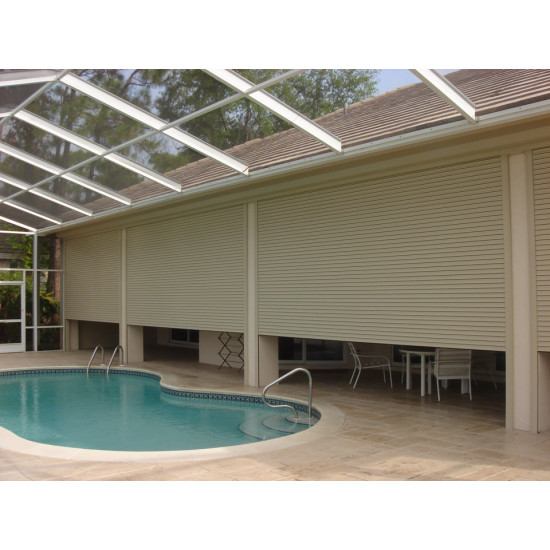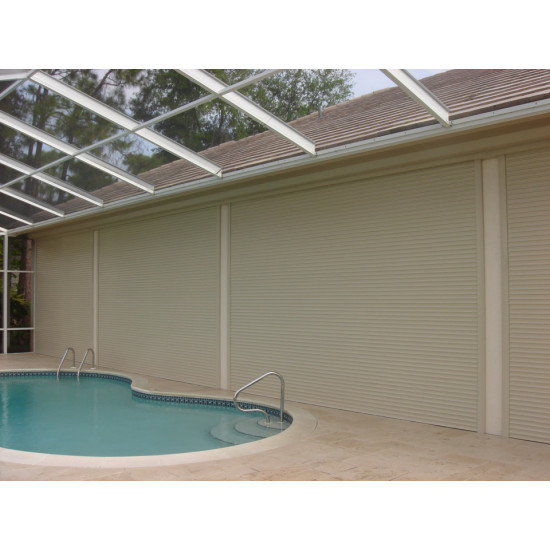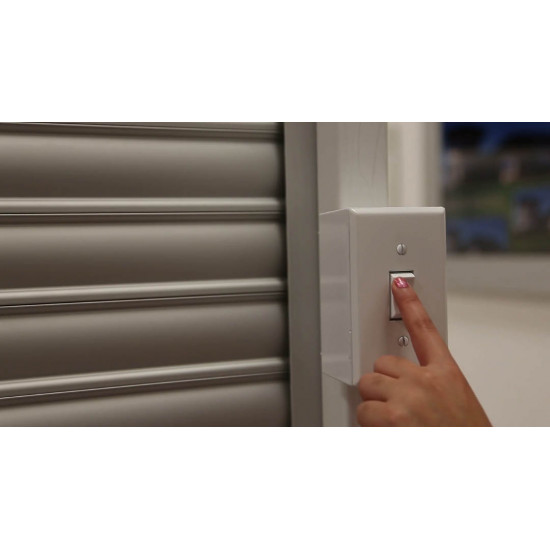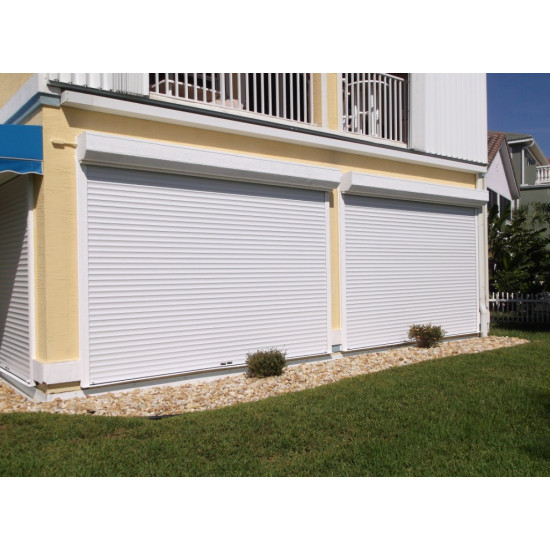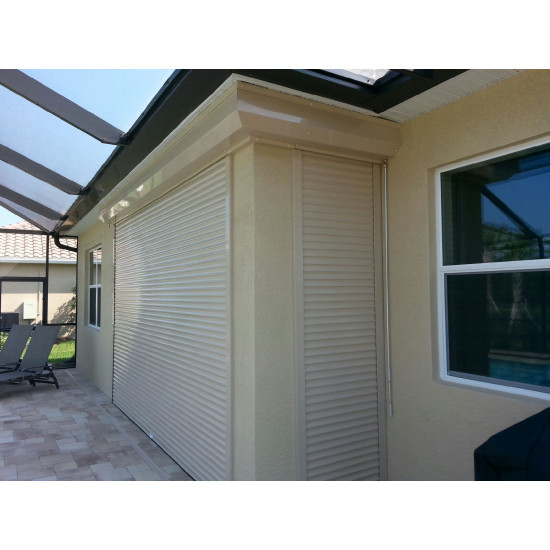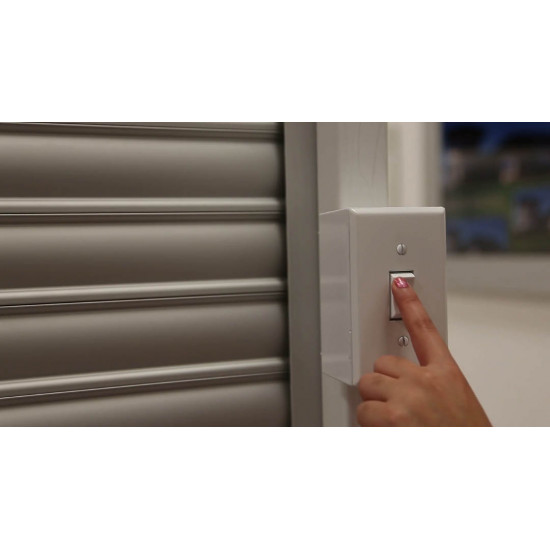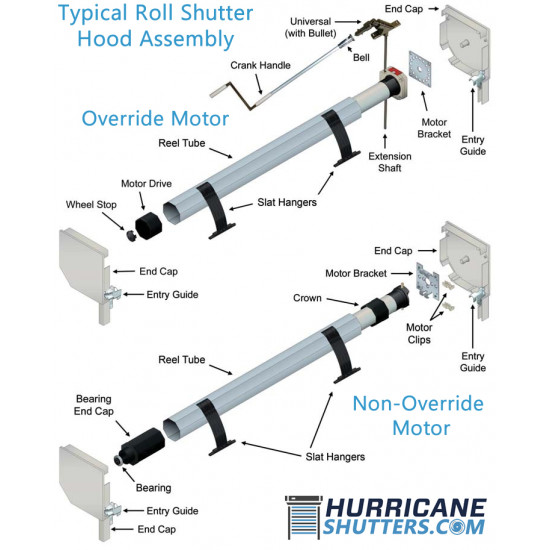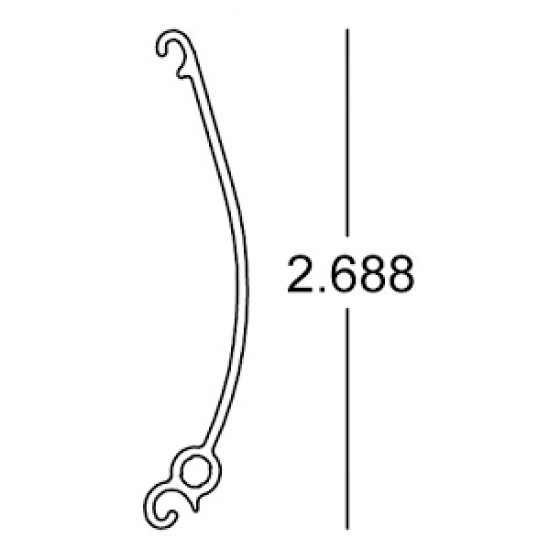 New Hot -35 %











63mm Single Wall Slat (End-Retention) - Rolling Hurricane & Security Shutter System
Our 63mm end-retention hurricane and security shutter offers the ultimate in protection and ease of use for your home or business. Roll shutter systems come with a smooth, manual crank or can be upgraded to the fully synchronized electric motor drive for maintenance-free operation. Roll shutters offer an elegant design solution with minimal visual impact. Rolling shutters are constructed of the finest grade of aluminum and power coated for maximum impact resistance and durability. Specially designed Roll shutters provide maximum strength and insulation from sun, storm, heat, noise, and weather extremes.

Miami-Dade Approved, FBC (HVHZ) Approved, Texas TDI Approved for category 5 hurricane protection. Our reinforced track system provides strength and maximum shutter width up to 24 ft. wide. They are specially designed and engineered to blend with and compliment your home or business. Roll Up shutters add substantial value to your home or business and pay for themselves through more efficient heating and cooling of your rooms.


Heavy duty locking reinforcement points of closure ultra-high velocity 185+ mph protection




Miami-Dade Florida highest hurricane standards, tested, & certified approved shutter system

Motorized remote control, smart system, wind sensor auto shut, solar powered options & more

Specially designed optional storm protection while providing unsurpassed security

Double reinforced end-retention lock slats to guide rail frame for maximum strength upto 24ft.

Extruded aluminum slats effectively to protect against storms, hurricane winds, direct sunlight, & rains

All orders for rolling hurricane shutters are custom made to fit your window or door perfecting

Rolling shutter blades designed to adjust for any preference for privacy or complete outside view

Specially engineered, designed, and built to fit your windows, doors, patios, & more

Long-lasting investment in quality protection against sun, storms, noise, forcible entry, and security 

Unparalleled ease of operation, Glide smoothly and locks securely, takes minutes to secure property

Our rolling hurricane shutters come standard with an industry best 10-year warranty

Enhances the value and longevity of any property while protecting, self lubrication components  

Meets or exceeds Miami-Dade County NOA, FBC HVHZ Approved, Texas TDI Approved

Elegant stylish protection, engineered to maintain properties appearance

Available colors: White, Ivory, Beige, and Bronze

Frame Depth 4" Wall to Outside Shutter

Miami-Dade approved NOA / FBC Approvals (below)


     

product approval 
&
 installation instructions:

Specifications
Maximum Size
286.5" x 192"
Maximum Design Pressure
200 -/+ PSF
Technical
Profile
Material Type – T6-6063 Aluminum power coated Interlocking slats / blades Insulation – Maximum Shutters, USA Country of origin – USA Gauge – 55mm Reinforced Blades.
Benefits
100% Miami-Dade (HVHZ) FBC Hurricane Approved 85% noise reduction 12% cooler in summer 15% warmer in winter 98% light block out 35% energy efficient Eliminates condensation Reduces glare Rust prevention medium 65% components aluminium
Applications
Doors, Doorways, Windows, Bars, Roof Windows, Canteens, Pergolas, Verandas, Cabanas, Bay Windows, Garden Windows, Curved Windows, Atrium's, Patios Closets, Cupboards, Partitioning Areas.
Rolling Hurricane Shutter System - 63mm Single Wall Slat (End-Retention)